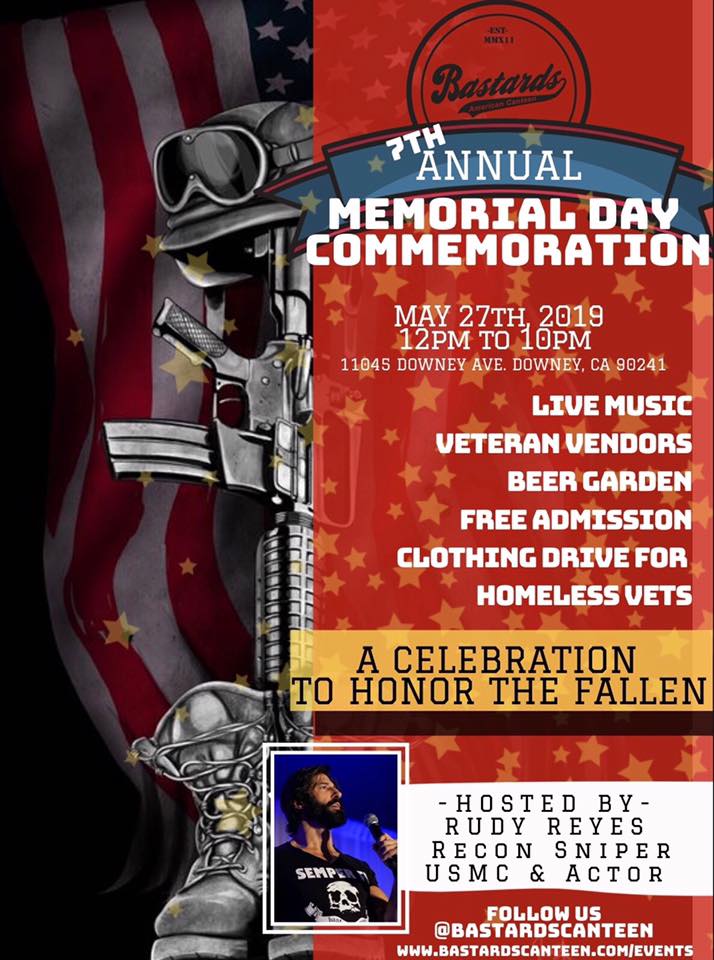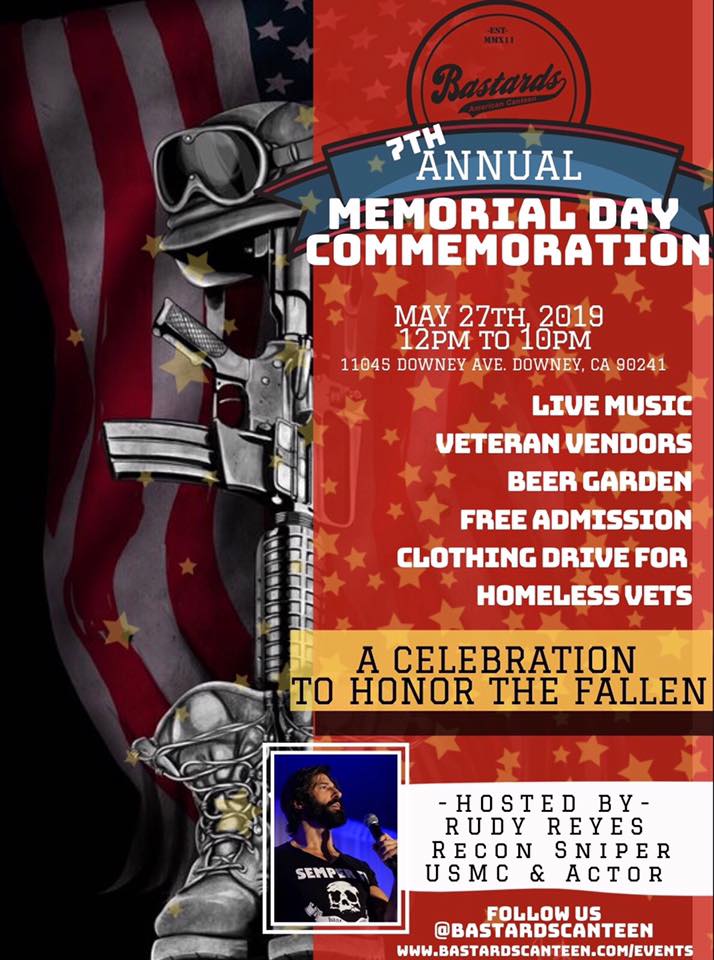 On May 27th 2019 Bastards Canteen & Save The Brave 501(c)3 will host their 7th Annual Memorial Day commemoration & clothing drive for homeless Veterans. This is a block party in Downtown Downey, and also a day of remembrance and celebration of those that have made the ultimate sacrifice for our great nation. It is also in effort to collect clothes for homeless veterans in Los Angeles county and surrounding communities.
Get patriotic in Downtown Downey at Bastards Canteen. In addition to the clothing drive there will be a diverse lineup of heavy-hitters like Redneck Rodeo, Nico Fresard, and Sure Shot Rockers. There will be Veteran resources and non-profits available to veterans that include East L.A. Vet Center, Save The Brave 501 (C)3, Courage Forward 501 (C)3, Side Action Apparel, Watchthree Apparel, Mex US Mar, Vato-Tactical, plus author USMC Ret. Major Scott A. Huesing. Rudy Reyes, USMC Recon Sniper & Actor will be hosting a series of special programming which we hope will add to festivities.
Save The Brave 501(c)3 encourages giving back to the community and military veterans. Save The Brave request every patron to bring one bag of donations-clothing for homeless veterans in good to excellent condition, folded and bagged. All clothing will be distributed to homeless veterans throughout LA County by our supporting elements.
Collaborating partners;
Save The Brave, Courage Forward, American Legion, Marine Corps League, El Machete Hot Sauce, Watchthree Apparel, Armbar Podcast, VatoTactical, USN Spec War Recruitment, Vet Center, Your Home Realty , American Spartan Apparel , Chew On This Beef Jerky, Chasing Death Apparel
Los Angeles county has the largest population of homeless military veterans in the nation.
The LA Homeless Services Authority estimates that more than 4,000 homeless veterans live on our streets. Many of these men and women suffer from co-occurring disorders, including substance abuse, mental illness and post-traumatic stress problems. The U.S. Department of Veterans Affairs estimates that 131,000 veterans are homeless on any given night, and approximately twice that many experience homelessness over the course of a year. Conservatively, one out of every three homeless men who is sleeping in a doorway, alley or box in our cities and rural communities has put on a uniform and served this country.
• Clothing Drive for Homeless Veterans |Save The Brave 501(c)3
Wish List:
New underwear
Men's & Women's clothing (All)
Plus-size adult clothing
Children's clothing
Toddler clothing (boys & girls)
Socks (all sizes; new/gently used)
Shoes (all sizes; new/gently used)
Wherever you are this Memorial Day, participate in Congress's National Moment of Remembrance at 3PM for a moment of silence. With that in mind–let's go!
FREE PARKING:
8200 3rd St, Downey, CA 90241
Event venue
11045 Downey Ave Downey CA 90241
(Block Party – 2nd street in between Downey Ave & New Street)
Live Entertainment Begins at 12:00 pm.
Email lalo@bastardscanteen.com for vendor application.
Cost: $200 Veteran & Law Enforcement
$500 Non-Veteran Vendor and Sponsors