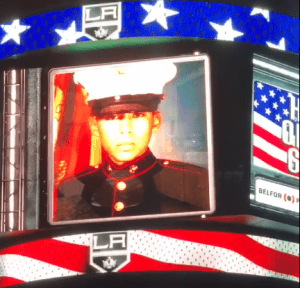 Cpl. Calvin B. Spencer, co-founder of Bastards American Canteen and a avid fan of the L.A. Kings was recently recognized during a KINGS Military "HERO OF THE GAME" dedication ceremony at Staples Center OCT 18th 2018. 
During the first period of the game, the KINGS recognized Calvin and his accomplishments were noted on the Jumbo-Tron, while fans stood-up and applauded. 
It's one of the most touching parts of every Kings game that one can't see on the television broadcast, since it happens during commercial breaks.